Industrial Flooring Service
Our Flooring System included developing a new construction project, our designers and engineers will work with you from pre-project planning through installation to after sales service to deliver a high quality, cost effective solution that meets your requirements. With a long experience on concrete works and flooring, Michael is presently a leading capable customize the design and install a wide variety of flooring that fits your industry. Quality, safety, standard, timeline and services are the Company's most concerns in serving our customers. Our design team, engineers, construction team, and sales team are always ready to help solving urgent problems and any matter that occurs during your critical circumstances. We always consider using suitable best quality materials for flooring and waterproofing system. Our recommendation is truly based on customer's budget. At the initial stage, major work that we can provide is appropriate design that perfectly corresponds to customer's need.

Product Details
Application
Catalogue Download
Product Details
Over the last 20 years, working with clients throughout Bangladesh, Michael has developed the reputation as a leading importer, supplier and applicator of best flooring products.
MICHAEL FLOORING MEETS ALL FLOOR NEEDS WITH HIGH PERFORMANCE AND EXPERTISE.
Michael supplies chemical specialty for construction since 2000.
Michael is well known for its industrial floor systems which are applied typically in:
Manufacturing industry (automotive, electronics, assembly, chemicals)
Life science industry (food & beverage, pharmaceuticals, Hospitals, professional laboratories)
Warehouse and distribution (storage and transportation)
Car park / parking garage (public, commercial, private)
Michael also supplies decorative floor systems in
Commercial buildings (hotels, shops, offices, exhibition centres)
Institutional buildings (schools, hospitals, libraries, museum, athletic centres)
Interior finishing (residential and small commercial, distribution business) Carriers (marine, rail, truck and bus)
Flooring Services are:
High performance cements base flooring: Floor Hardener.
Zero level floor
Resin based flooring systems: Epoxy coating, Self levelling epoxy (SLE) and Polyurethane (PU).
Floor repair and restoration.
Download Our Flooring Service Catalog :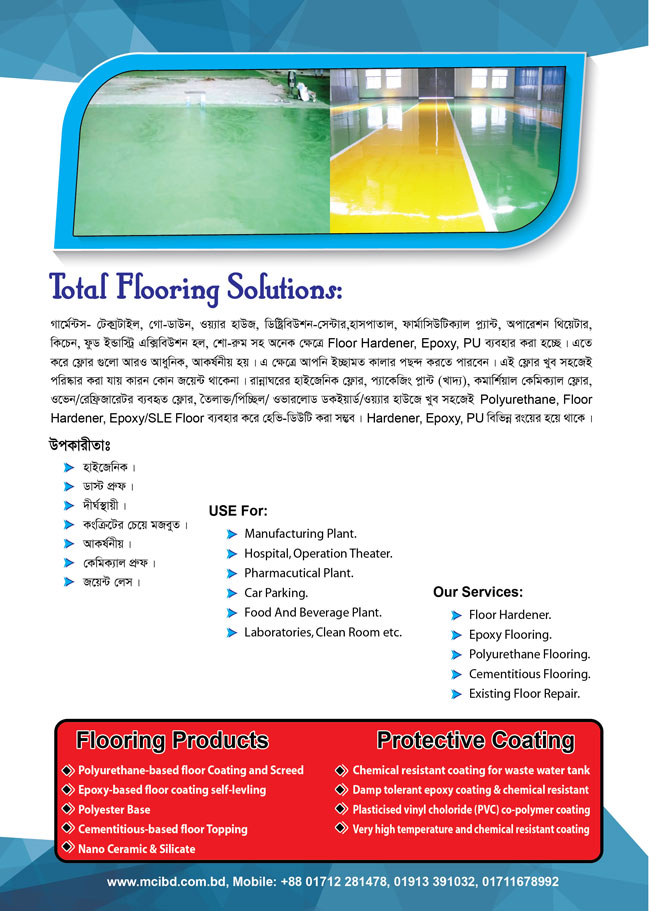 Application
Catalogue Download